"Adapting to climate change is the new reality...As practitioners of good governance, local governments must develop responses that protect their local citizens, environment and economy."  
​Colwood recognizes that savvy investors look to communities who are prepared to thrive throughout changes in our environment. Colwood has been a leader in taking steps to reduce greenhouse gas emissions and encouraging residents to do the same. Initiatives like the Solar Colwood program and the City's proposal for recovering energy and water from the sewage treatment process are excellent examples of this. Our awards and achievements page lists some examples of recognition the City has received in this area.
The Colwood coastline
While the Victoria area is noted to be one of the least affected areas in North America, all communities with a coastline will have to deal with sea level rise. As a city set along more than 5 miles of ocean waterfront, Colwood needs to continue to monitor and plan responsibly for the effects of climate change over the next 20 years and beyond.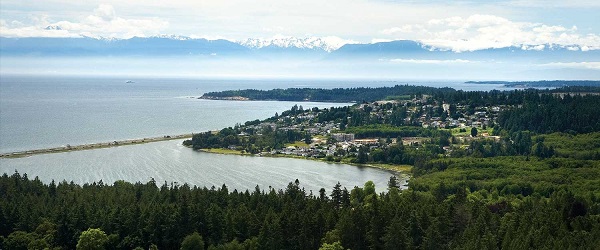 A unique aspect of our coastline is that the Coburg Peninsula was continually added to by sediment from gravel pit operations between 1909 and 2007. Since the gravel pit stopped operating, the peninsula has not been built up to the same levels as it had in the past. This has an impact on Ocean Boulevard and the Lagoon Bridge, as well as a small sewage pump station located in the area.
The opportunity
Although Colwood and other local governments will face unprecedented challenges, climate change also presents opportunities which can be capitalized on. Sea level rise is the most predictable and gradual aspect of climate change, which means there is time to plan, consult with community members and develop innovative solutions. 
Many of the actions that will mitigate negative effects of climate change will also improve our quality of life, our impact on the environment, our emergency preparedness & reslience and our long term financial outlook.
Learn more
The presentation below was created by Colwood's Director of Engineering to introduce the topic of climate change to Colwood Council and Committees, and to describe the steps Colwood already taking to mitigate and plan for the effects of climate change.