Update - March 2021 Get all the latest updates at ColwoodCorners.com
Update - August 13, 2020
Onni Group expects to begin frontage improvements along Sooke Road before the fall of 2020, including sidewalks, landscaping, lighting, cycling lanes, bus lanes and underground servicing. 
Update - July 24, 2019
The concrete work for first 5-storey, mixed-use building on the corner of Sooke and Jerome Roads, including all the underground piles and chambers, is expected to be complete by the fall of 2019 with buildings 1A & B progressing quickly from there. 
Onni has announced that Save On Foods will be the anchor tenant in building 1.
The old sales centre by London Drugs has been moved off the site as well. Civil works for buildings 4, 5 & 6 will get underway there soon.
Building permits for the first 10 buildings have been issued, which means the project will continue to provide employment in Colwood for several years.
Update - October 30, 2018
Onni Group installed a new crane on the Colwood Corners property as they prepare to proceed with construction of the first new buildings on the site. ​The development will transform Colwood's town centre with six new buildings in this first phase, providing more than 400 apartments and over 15,000 square metres of commercial space for new shops, services, and eateries. Construction has begun on the first mixed-use building at the corner of Sooke Road and Colwood Crescent as well as the first two mixed-use residential buildings. 
Update - January 30, 2018
Initial building permits have been issued to Onni for the Colwood Corners development. Onni plans to begin work on overall site, civil, and landscape preparation shortly. This permit serves as a precursor to Building Permits for buildings 1-4. Onni anticipates acquiring additional Building Permits this summer. 
Update - August 21, 2017
Onni Group has engaged Allterra Construction to begin site preparation and remediation work at the Colwood Corners site. Work is scheduled to begin on August 22, 2017. Staff worked extensively with Onni Group to ensure remediation processes include environmental monitoring and testing processes to protect the surrounding natural areas. 
Update - August 8, 2017
Onni Group is expected to begin work at Colwood Corners in mid August, toward completion of phase one in 2020. Read more at Onni excited to announce plans for Colwood Corners.
Update - January 4, 2017
The City received updated development plans for Colwood Corners from Onni Group on December 22, 2016.
The number of units, commercial floor area, and siting remain largely the same as the previous submission. View the site plan in pdf format (this is a large file that may take a moment to load).
Highlights from Onni's latest submission include the following:
Phase 1 (Buildings 1-7) will provide 276 residential rental units and approximately 14,200 square metres of commercial floor area.
Phase 2 includes two residential buildings with 201 units (Buildings 9 and 10)
The new submission includes a Sooke Road cycle lane and boulevard adjacent to the development.​
Overall improvements made to the architectural form and character of buildings including:
Variation in façade elements (colours, materials, and increased glazing);
Increased design elements in the façade at the pedestrian level such as use of reveals and architectural elements;
Additional variation of roofline angles and treatments.
Overall improvements to emphasize pedestrian environment such as:
Enhancement of pedestrian areas with benches, landscaping, lighting, design details;
Provision of outdoor open space including a children's play area with connections to the Galloping Goose Trail.
Enhancements to existing London Drugs building as shown below.

Next Steps
Next steps include finalization of the development permit and preparation of a staff report to Council outlining the relatively minor outstanding issues that require a decision of Council. Staff expect to receive updated information from the applicant in time to report to Council in February or March at the latest.
---
Update - June 29, 2016
The City of Colwood has received a development application with new plans for the first phase of the City Centre property on Sooke Road at Goldstream Avenue. The 12.5-acre parcel bordered by Sooke, Jerome and Belmont roads was purchased by Onni in 2014. The application submitted by Onni Group includes drawings that envision a mixed use development with 13,887 square metres of retail and commercial buildings that would also provide approximately 284 rental housing units. Plans show buildings between one and five storeys high.
---
Update - October 2015:
Onni Group presented preliminary concepts at the October 26, 2015 Council meeting. 
The concept shows smaller scale development than the previous plans for the site, with six buildings in the first phase. Three buildings show residential housing on top with commercial units on the ground floor, and three buildings would be dedicated to commercial spaces. The site includes additional property that would be developed in future phases.
---
Update - February 2015:
Onni Group has purchased the City Centre property on Sooke Road opposite Goldstream Avenue. This project is in the initial stages of planning and the City expects to see applications for development in 2016.
Onni is a Vancouver company that specializes in mixed-use and residential development such as those shown below:
Example development 1: Suter Brook Village in Port Moody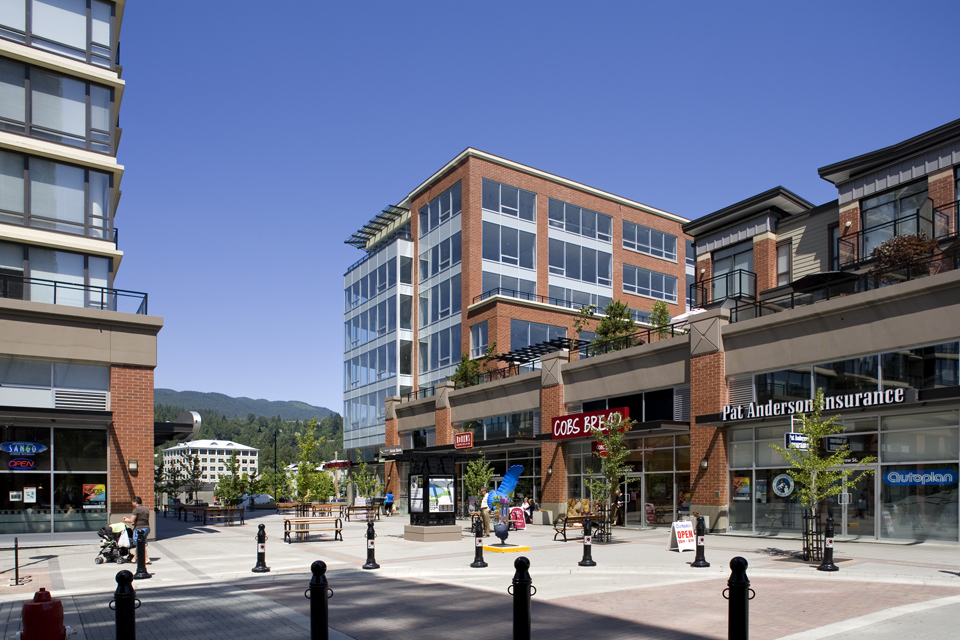 Example development 2: The Drive in North Vancouver