Costing out the options
With input from the community at the open house held in August 2014, staff undertook a comprehensive analysis to cost out the proposed sewer upgrades and the transportation enhancements.
Community feedback confirmed that there was limited interest in dividing the project; for example upgrading Sooke Road to Pickford first and then tackling Pickford to Veteran's Memorial Parkway. Similarly, the majority of input indicated that it was important to extend sewers along Kelly Road at the same time as transportation upgrades are done, so that the major construction takes place all at once. 
With a price tag estimated at $5.3 million to complete the entire project, grant applications were submitted for additional funding. Unfortunately the grant applications were not successful so the project did not proceed at that time.
Open house - thanks to everyone who took part
On August 7 between 4pm and 7pm community members wandered over to Herm Williams Park to take part in the Kelly Road Improvement Project Community Open House.
This open house is one step in a longer process to determine priorities, identify funding needs and finalize plans for Kelly Road improvements.

Participants viewed information boards [large PDF 7 MB] about the project and completed a Kelly Road Improvement Project Questionnaire. We encourage you to fill it out online to share your views too.
---
Knowing that a full public open house was being planned to invite the community into discussions about proposed improvements to Kelly Road, a report on preliminary plans was presented at the Monday, July 7, 2014 meeting of the Colwood Transportation and Public Infrastructure committee.
It was determined that more discussion with members of the community is required before planning and design can move forward.
Several members of the community provided support and input into the plans, expressing the need for more discussion around topics like:
the importance of on-street parking on Kelly Road,
ensuring the whole length of Kelly Road is included in upgrade plans,
whether sewer lines should be installed along with road improvements,
ensuring safety and accessibility at bus stops, park entrances,
concerns about the impact of potential road redirection, and
ensuring all members of the community are informed and have the opportunity to provide input.
Overview of preliminary plans
The Kelly Road Improvement Project outlines plans for the installation of new sidewalks, buffered bike lanes, transit improvements, boulevards, medians and landscaping to bring a new sophistication to the neighbourhood, making it easier to walk, cycle and use transit in this central area of the City. Sewer lines may be installed at the same time because it makes sense to do that while the road is under construction. The preliminary concept drawings below give a sense of some of the work being planned.
Kelly Road between the Langford border and Pickford Road: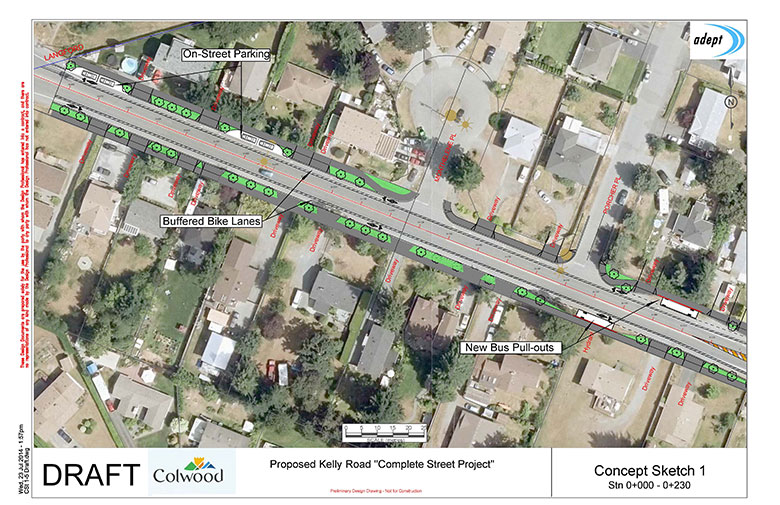 Kelly Road from Pickford Road toward Herm Williams Park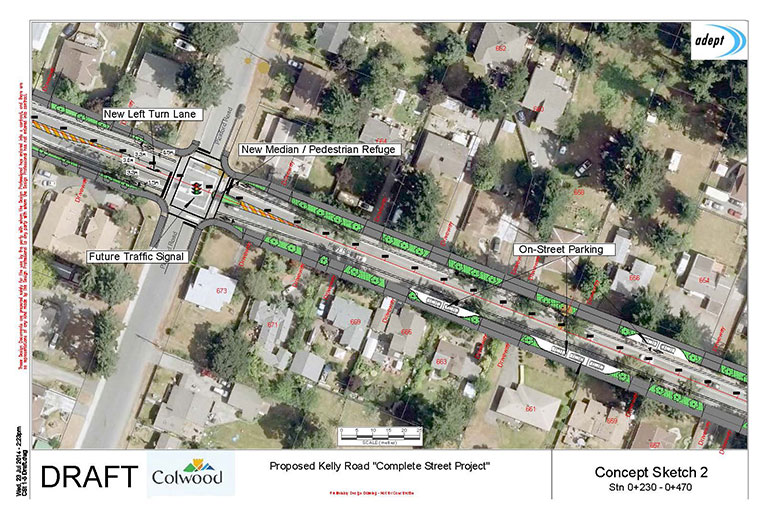 Kelly Road near Herm Williams Park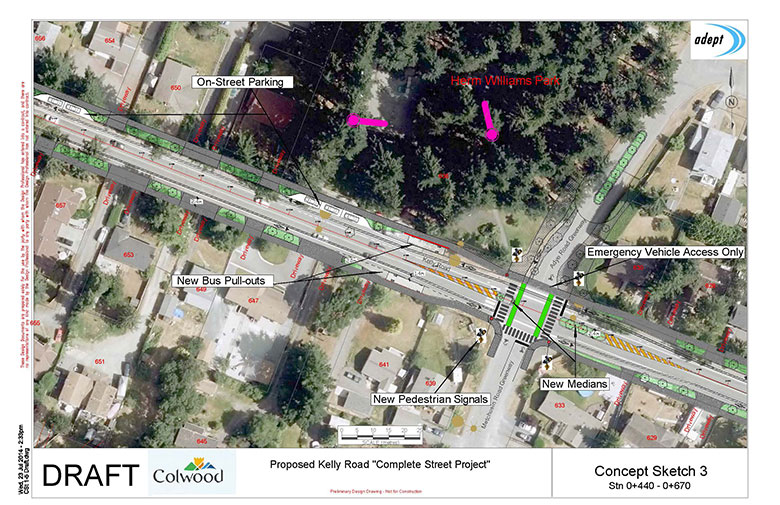 Kelly Road from Sooke Road toward Adye Road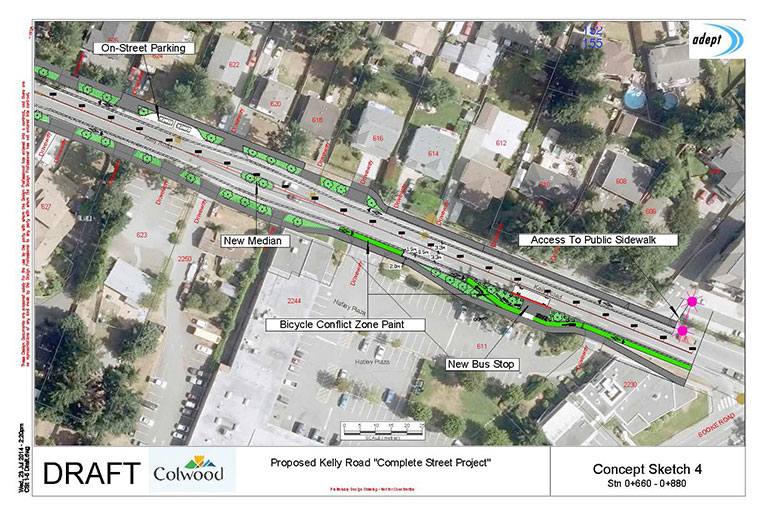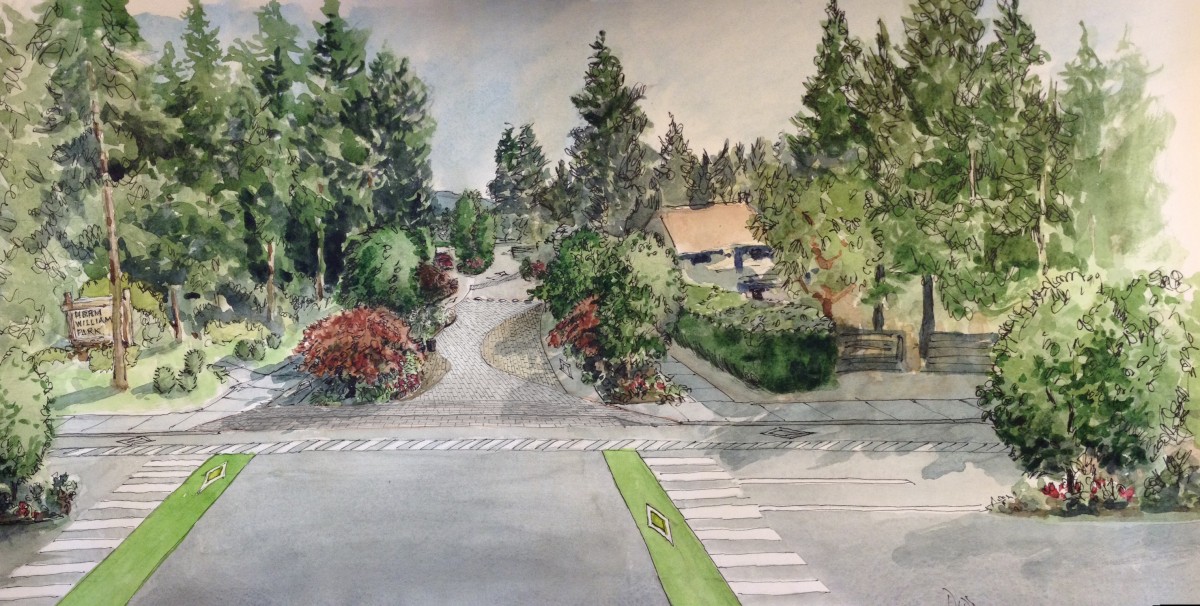 The project also includes the creation of a Metchosin Greenway that will make it safe and enjoyable to walk or cycle from the Galloping Goose trail, along Adye Road and across Kelly to Metchosin Road. Preliminary concepts (see artist's concept drawing to the right) include a landscaped pathway and a public space where Adye Road meets Kelly to reduce vehicle traffic. This would mean closing the entrance to Adye Road at Kelly to vehicle traffic. Vehicles would access Adye Road via Mt. View Avenue or Pickford Road. The traffic light at Mt. View and Sooke Road would be upgraded to a full vehicle activated signal to ease traffic flow.
The first step in planning is to involve neighbours of the area and consider your input in the design of the greenway. Flyers introducing the project are being circulated to homes in the immediate area. A public open house is being planned for the coming weeks.
Project Funding
Funding for the project comes from a variety of sources, including federal gas tax as well as a grant obtained through the CRD Regional Cycling and Pedestrian Master Plan.
Connect with Colwood
We welcome your thoughts about this project and all that is going on in our community. There are many ways to connect with us:
Phone:  250-478-5999 
Email:  info@colwood.ca
Click:  Use the Feedback form at the bottom of any webpage
Visit:   Colwood City Hall at 3300 Wishart Road
Subscribe: sign up for email updates about City news and events at www.colwood.ca/subscribe
Follow: Colwood is also on facebook and twitter. Be the first to know by following us @CityofColwood.
We are working hard to share information about decisions that affect you, and to provide ways for you to offer input and see it reflected in plans.