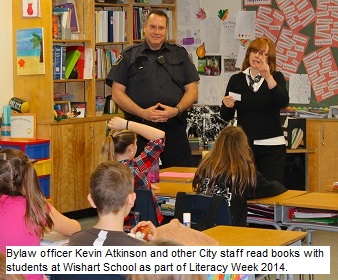 COLWOOD, BC – One of the best ways to ensure our neighbourhoods are safe is to simply keep an eye out for one another. When neighbours know each other and the people who work within their community, they are more likely to notice and report anything out of the ordinary. That's what Colwood's City Watch program is all about.
Colwood City staff are on the job every day all around the city; pruning trees, cutting grass, doing fire and building inspections, meeting with people in the community, working on roads, trails, parks and the waterfront. Their work makes them very familiar with every aspect of the city.
Colwood's new City Watch program ensures that all public works and bylaw employees have received training developed in partnership with the Westshore RCMP about types of suspicious activity to watch for, how to record their observations, how to report an incident and what records to keep.
"This program benefits everyone," said Colwood Mayor Carol Hamilton. "City staff feel a sense of pride in helping to keep our community safe, Colwood residents benefit from an added sense of security and Westshore RCMP benefit from having more eyes and ears on the street."
All City of Colwood staff now have access to a City Watch binder which is updated with information such as missing persons reports, notices of any recent incidents or acts of vandalism and other things to watch for. Every City vehicle is equipped with City Watch cards outlining the protocol for contacting emergency services personnel, reporting incidents and conducting emergency first aid.
"The City watch program is not just about discouraging crime, it's about being there to help," said bylaw officer Phil Williams, who developed the City Watch program for Colwood. "If there is somebody in our community who needs assistance, Colwood staff can help. We are part of a community that cares for each other."
City employees can act as the eyes on the street when RCMP have reports of activity in a neighbourhood. Just recently there was a report of a child missing after school. Bylaw officers nearby were contacted by radio and were easily able to identify the child walking alone and return him safely to his home.
In another instance, staff working in Latoria Park caught sight of a cougar making its way toward a nearby cul de sac where children would soon be coming home from school. Knowing who to report the sighting to and understanding that safety is their responsibility empowered staff to speak to nearby residents to advise them to take special care with kids that evening.
City bylaw officers routinely help with traffic control when accidents occur, may remain with victims while RCMP deal with perpetrators and provide emergency services personnel with an extra set of hands whenever needed.
Good neighbours rely on each other to lend a hand, keep an eye on kids and check on property when someone is away. They can take comfort in knowing that Colwood employees are also looking out for them and are someone safe that kids can approach if they ever need assistance. It's just one more way we help keep our community safe and healthy.
Learn more about Colwood's City Watch program at www.colwood.ca/citywatch.
-30-
Media Contacts:                                                              
Sandra Russell
Communications Manager, City of Colwood
250-893-1595                                                                                                                 
Subscribe for news updates by email at www.colwood.ca/subscribe.
Follow us on Twitter @CityofColwood and Facebook CityofColwood.