We are excited about the announcement that the 3,000 seat spectator arena in Colwood, formerly known as Bear Mountain Arena, will now be known as the 100.3 The Q Centre.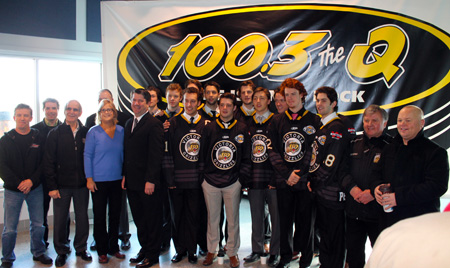 100.3 The Q prides itself on being active in the community on many levels, and is already a major partner in the West Shore with events such as Rock the Shores, Victoria Shamrocks Lacrosse, the Victoria Grizzlies and local hockey teams. "This partnership is a natural extension of The Q's mandate to support strong family‐oriented community groups and events. We felt like this would be a great opportunity to reach out to the community in the West Shore" says 100.3 The Q!'s General Manager, Dan McAllister.
West Shore Parks & Recreation, owners and operators of Victoria's premier mid‐sized arena, reached an agreement with the radio station in early February and couldn't be more thrilled. The agreement will include financial compensation but also advertising air time in exchange for the naming rights to the building.
"Our decision came down to finding a partner that provided not only a financial benefit but one that could increase our presence in the community, and who better to do this than The Q?" says Rob Martin, West Shore Parks & Recreation Society Board Chair and Colwood Councillor.
Users of the facility can expect very few changes to the arena. 100.3 The Q will be hoisting a new sign this spring and all onsite directional signage will be updated. 100.3 The Q Centre will continue to house major tenants including the Victoria Grizzlies (BCHL Jr. "A" Hockey) and the Victoria Senior Shamrocks (WLA Senior "A" Lacrosse).
Learn more about the facility on the West Shore Parks & Recreation website.