COLWOOD, BC – Colwood City Hall is the first office on Vancouver Island to earn GREEN certification by the Vancouver Island Green Business Certification (VIGBC) program.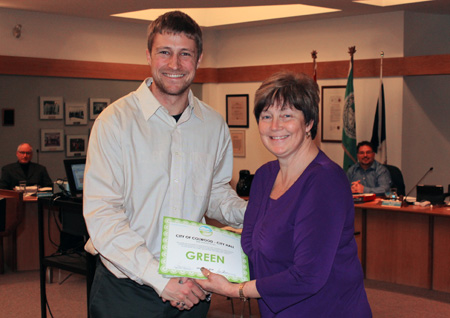 The City participated in a pilot project that undertook a comprehensive assessment of the City Hall building, operations and purchasing practices as well as employees' environmental and social responsibility. When VIGBC staff completed the site assessment, Colwood became the first office on Vancouver Island to earn top honours for completing 29 actions to reduce its environmental impact. The certificate will be presented at the next Colwood Council meeting on Monday, January 13, 2014.
"This award is excellent recognition of Colwood's commitment to fiscally and environmentally responsible actions," said Colwood Mayor Carol Hamilton, "It is also a great example of the dedication of staff we have working for Colwood. They consistently go above and beyond to look for ways to improve efficiency and show leadership."
On December 12th, assessors took a close look at things like lighting, efficiency of equipment, support for alternative transportation, cleaning products, recycling and composting practices, water consumption, work environment, and even how employees give back to the community.
The City began the process with high marks due to existing business and environmental practices like light sensors, thermostat regulators, putting computers to sleep, recycling and composting. City staff were quickly able to improve their rating from Silver to Gold and then surpass the points required for Green certification by making a few adjustments.
The City made some simple changes like upgrading several water faucets and arranging bulk purchase of certain products. But there were also some bigger changes that will have a lasting positive impact, such as switching to an innovative new courier service called GeaZone Eco Courier. GeaZone is an emissions-free delivery service that uses electric vehicles and human powered tricycles.
"Staff at the City of Colwood have an excellent awareness about their energy consumption and environmental performance," said VIGBC program manager Lee Johnson. "Although they have already taken steps to reduce their environmental footprint, City staff were keen and swift in making the few adjustments required to certify them as a Green office. It was amazing to see employees so engaged and passionate about improving their environmental performance and becoming the first office on Vancouver Island to be awarded Vancouver Island Green Business Certification."
The City will continue to seek ways to reduce its energy consumption and emissions. Next steps include VIGBC certification for the Colwood Fire Department and Colwood Public Works Department. "Our Official Community Plan describes our commitment to sustainability as a City," said Mayor Hamilton. "Our own practices at City Hall are an extension of that."
Learn more about Vancouver Island Green Business Certification at: www.vigbc.ca.
-30-
Media Contacts:
Sandra Russell
Communications Manager, City of Colwood 
250-893-1595 Updated contact info: 778-677-5345
Lee Johnson
Program Manager, Vancouver Island Green Business Certification
250-634-4487                                                              
Follow us on Twitter @CityofColwood and Facebook CityofColwood.