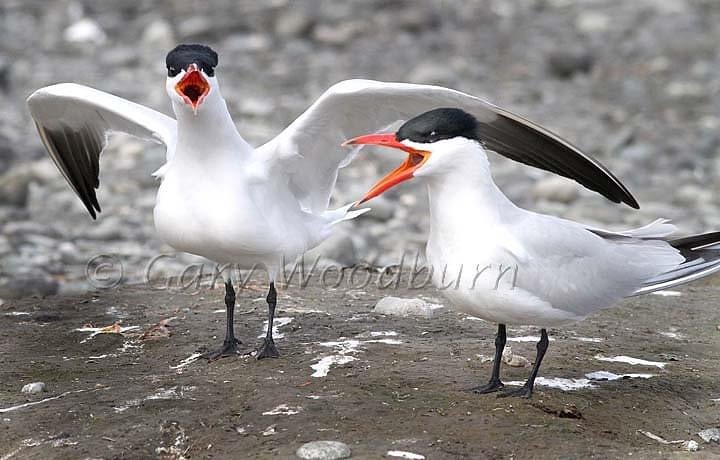 On Saturday, 9 May 2020, people around the world will celebrate World Migratory Bird Day, a time to celebrate our feathered friends and take a moment to appreciate where they've come from, how far they've travelled, and how they enhance our lives.
Birds Connect Our World 
The theme of World Migratory Bird Day 2020 is Birds Connect Our World. Think of all the beautiful places they've travelled and rested, including a stop at Esquimalt Lagoon here in Colwood.
Esquimalt Lagoon is one of seven National Migratory Bird Sanctuaries in British Columbia and 92 in Canada. The lagoon is also an estuary, where fresh water flowing in from Colwood Creek and Bee Creek mingles with seawater to support an abundance of plant and animal life. Twice a day the tide rushes in and out, creating a rich environment for marine plants and many species of shellfish, birds and mammals.You'll find many beautiful birds here, including blue heron, oystercatchers, terns (like the caspian terns shown here photographed by Gary Woodburn at Esquimalt Lagoon), widgeons, mallards, mergansers and bald eagles. 
Have fun learning about birds
Have some fun learning about migratory birds with these educational and interactive activities offered by nature organizations around the world.
Do a backyard bird safari! Check off the birds you see in your neighbourhood.
Try these addictive online bird puzzles to learn to identify different species.
Take your learning outdoors with restoration activities like building a bird nesting box, finding native plants or creating windows decals.
Join the virtual celebration online Saturday at noon, hosted by Rocky Point Observatory and Victoria Natural History Society with photos and stories about memorable experiences with migratory bird species.
Share your photos and what you learned on social media and tag @CityofColwood
More ways to learn