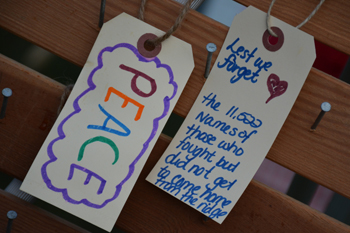 On November 11, at 4:30 pm, bells will ring out across Canada to mark 100 years since the end of the First World War.
2018 marks the hundredth anniversary of the end of World War 1 and the Armistice declared at the 11th hour of the 11th day of the 11th month, 1918. 
Since that day, as a nation we have stopped to remember the sacrifices made by ordinary men and women in the field of battle at the same time each year, worn poppies, recited poems ingrained in our collective memories, grieved, and paused in silence.
Join us on Remembrance Day to hear stories about the last 100 days of the most devastating war in history and the reasons for our Remembrance traditions from local military re-enactors and other community groups, do special crafts and enjoy a cup of hot chocolate.