A Memorial Service will be held for Colwood Fire Chief John Cassidy at 1pm on Saturday, July 10, 2021 at West Shore Parks & Recreation.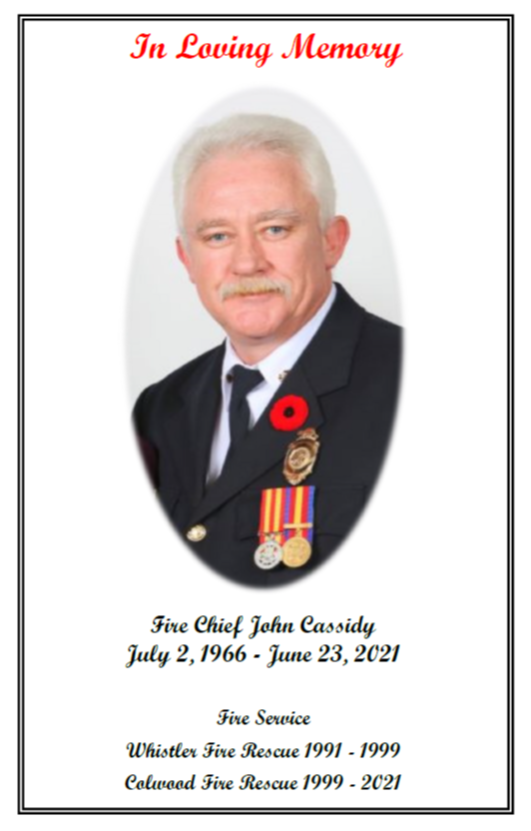 CASSIDY, John Charles
July 2, 1966 - June 23, 2021
With extremely heavy hearts, we announce the sudden, tragic passing of Chief John Cassidy, of the Colwood Volunteer Fire Department.
This year marks John's 30 years in the fire service and his accomplishments are far too many to list.
John revered his job, his co-workers and his community. He was honoured to work alongside the career and volunteer firefighters. He was appreciative of the outstanding office personnel and greatly valued his relationships with all the Chiefs of The West Shore Departments.
John was well respected and highly regarded. He was selfless, kind, caring, witty, knowledgeable, empathetic, proficient and exceptionally dedicated to his chosen profession. 
John will be lovingly remembered and eternally missed by his wife of 32 years, Monique, his daughter Lauren (Kieran) and his son, Ryan. Ultimately, John's greatest pride and joy was his family and he was always happiest, at home, with them. John is also survived by  his father, Liam Cassidy and sister, Claire Meert. 
Please join us in celebrating John's life and career on Saturday, July 10, 2021 at 1:30 p.m. at Westshore Parks and Rec, outdoor lower soccer fields, 1767 Island Highway, Victoria, B.C. Public is welcome.
In lieu of flowers, please make a donation to: The Colwood Firefighters Association Darryl Corrigall Memorial Scholarship. 
Condolences may be sent via email to: www.carefuneral.com