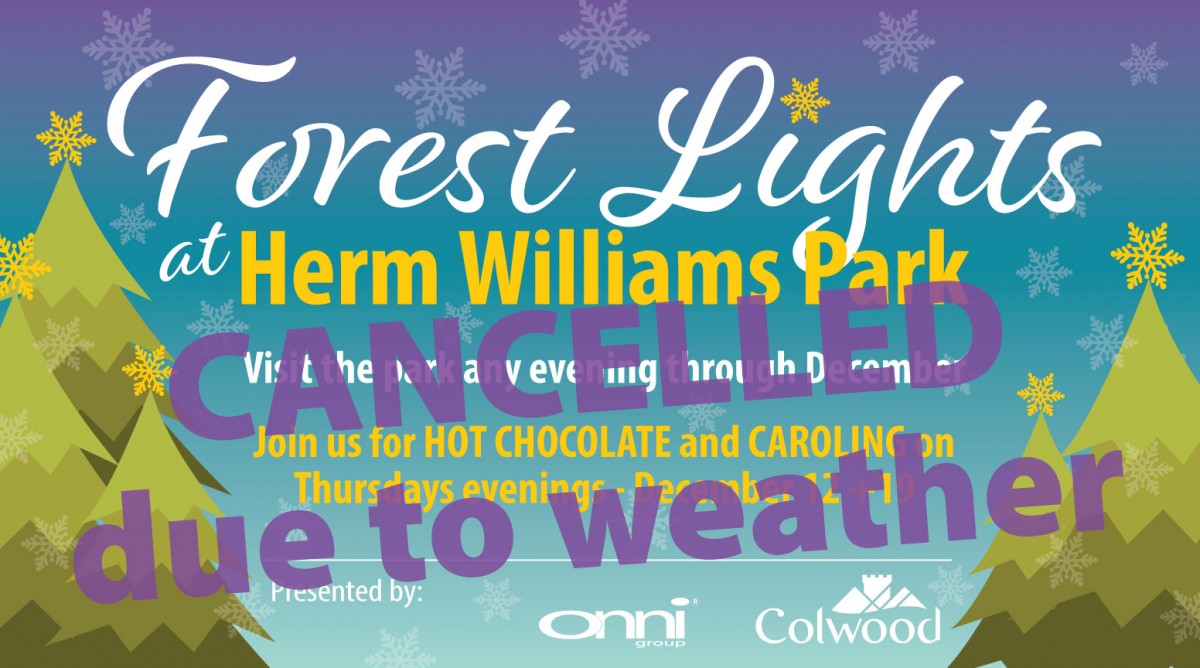 CANCELLED: Regrettably, we are going to have to call off the Forest Lights event at Herm Williams Park this evening (Dec 19). High winds are expected, creating a safety issue for people in this forested park. Power outage is also likely.
The lights will be set to come on every evening throughout December and we hope you'll take the opportunity to wander through on a more pleasant evening.
New for 2019!
Inspired by the Northern Lights at the North Pole... wander through the Forest Lights at Herm Williams Park any evening through the holidays, beginning December 7th. It's a cool way for Colwood neighbours to enjoy time together in the fresh air with little ones, family and friends. The park will light up between 5 pm and midnight each night.
Hot chocolate and caroling on two Thursdays in December
On Thursday, December 12th and Thursday, December 19th from 6pm to 8pm, join us for a steaming cup of hot chocolate and caroling - sing along to favourite Christmas carols.
Don't miss performances by Royal Bay Secondary School students and the West Shore Community Concert Band.
A new tradition
This is the first year - a starter year - of Forest Lights, proudly sponsored by the City of Colwood and Onni Group, who is bringing Colwood Corners to life on Sooke Road. 
The City will consider expanding this event each year to make it a growing Colwood tradition for families to enjoy. 
Feedback encouraged
We welcome your questions and feedback at srussell@colwood.ca.
Thank you to generous sponsors: