Don't miss the best beach party of the summer!
The 5th Annual Eats & Beats Beach Festival is coming Saturday, July 20, 2019 from 1pm to 8pm.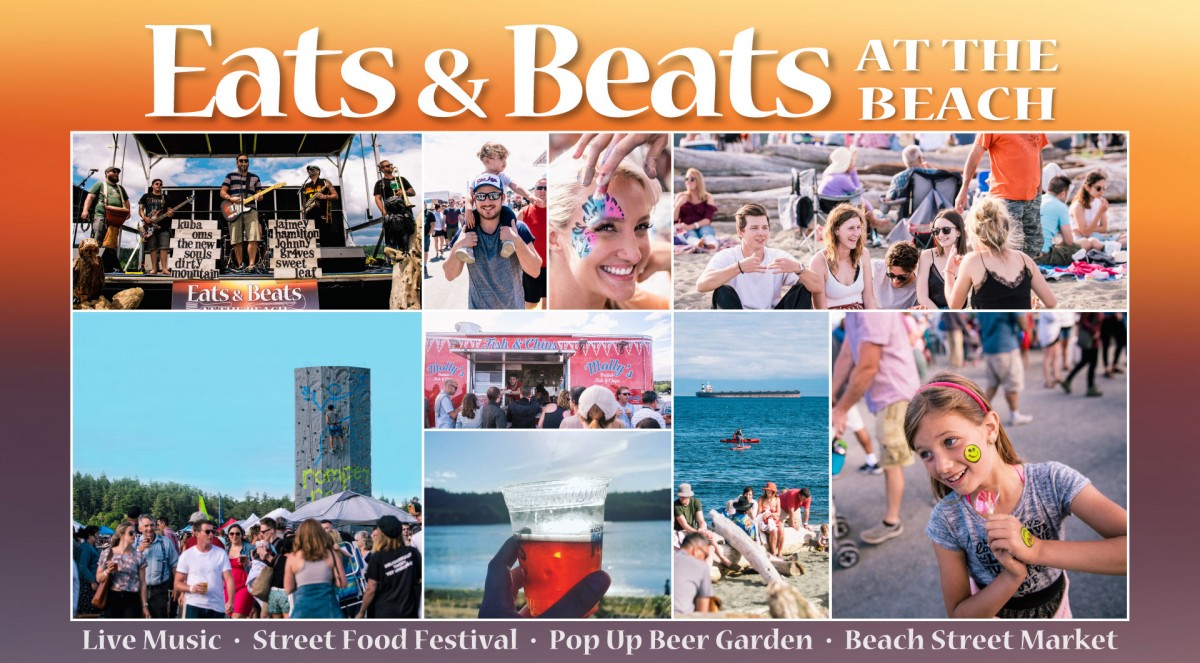 Come celebrate summer on Colwood's breathtaking oceanfront beach with 5 live bands, a street food festival, a craft beverage garden hosted by the Victoria Beer Society, a beach street market, and FREE fun stuff happening on sand, sea and sky. The event takes place about midway along the Lagoon Beach on Ocean Boulevard in Colwood. See photos from last year's event.
Groove to live music on the beach all day long
Sample tasty eats from all your favourite local food trucks
Enjoy a broad selection of ice cold BC craft beer served beachside at Victoria Beer Society's Pop Up Beer Garden! With taps curated by Cascadia Liquor, everything pouring from the Beer Truck is also available at Cascadia Liquor Store locations.
Go for a paddle in a kayak or stand up paddle board on the ocean with West Coast Outdoor Adventure.
Take an e-bike for a cruise, courtesy of Oak Bay Bikes.
Flex your muscles on the climbing wall. Fully staffed and equipped with an auto belay system to let you down easy, it's a fun, safe, outdoor activity.
Stroll along the beachside street market. Find unique treasures and market treats from dozens of local vendors.
Check out cool driftwood art. Unique sculptures by local artists including McGnarly and his menagerie of birds. 
Tons of fun... join your favourite team mascots like Harvey the Harbour Cat, Marty the Marmot, and Rocky Raccoon as they get up to some crazy antics. Get your face painted, enjoy a walk along the beach, or a splash in the ocean. 
Your friends will be there! Check the Eats & Beats facebook event page to see who's going.
HOT EATS for 2019
Deadbeetz  |  Songhees Seafood & Steam  |  Greek on the Street  |  L'Authentique Poutine & Burgers  |  Kebab Me Crazy  |  Mama Rosies  |  Coast Lunch Box  |  Spice Aid  |  Grilled to the Mac  |  4Beaches Pizza (Cancelled)  |  Mai Mai's Asian Fusion  |  Naked Dressings  |  Elements Ice Cream  |  Road Treasure Treats |  Donut Delights  |  and more!
COOL BEATS for 2019
1:00 - 2:00 pm: SweetLeaf - SweetLeaf will get you on your feet with energetic 90's SKA sounds. With a kick ass horn section, SweetLeaf has no musical boundaries, bringing elements of hip hop, funk, ska, punk, jazz, soul and bluegrass for a truly original sound. Listen to SweetLeaf
2:15 - 3:15 pm: The Boom Booms –  The Boom Booms are an energetic alt-soul band that blends story telling with dance music, soaked in Latin, folk, reggae and rock for a smooth sound that spans continents and generations. Listen to the Boom Booms
3:30 - 4:30 pm: Cities – Pop, rock, soul and just a whole lot of fun, Cities plays songs you know, love and can't help grooving with. Listen to Cities 
4:45 - 5:45 pm: The New Souls – Their unique and powerful sound combines soul, R&B, and funk music. Well-crafted melodies, soaring lyricism, and a dynamic rhythm section make the New Souls a must-see live act.  Listen to the New Souls
6:00 - 6:30 pm: Presenting the young, up-and-coming band out of Colwood's Royal Bay Secondary School: Tuesday's Roadkill.
6:45 - 8:00 pm: Eagle Eyes – Bringing the Eagles legendary harmonies and captivating live performances to life at the beach! Listen to Eagle Eyes
Getting to Eats & Beats
*Please note: Ocean Boulevard will be closed to through traffic between 9am and 9pm on Saturday, July 20, 2019. Parking will be available along the lagoon. Best to approach from the Lagoon Road side for beach parking.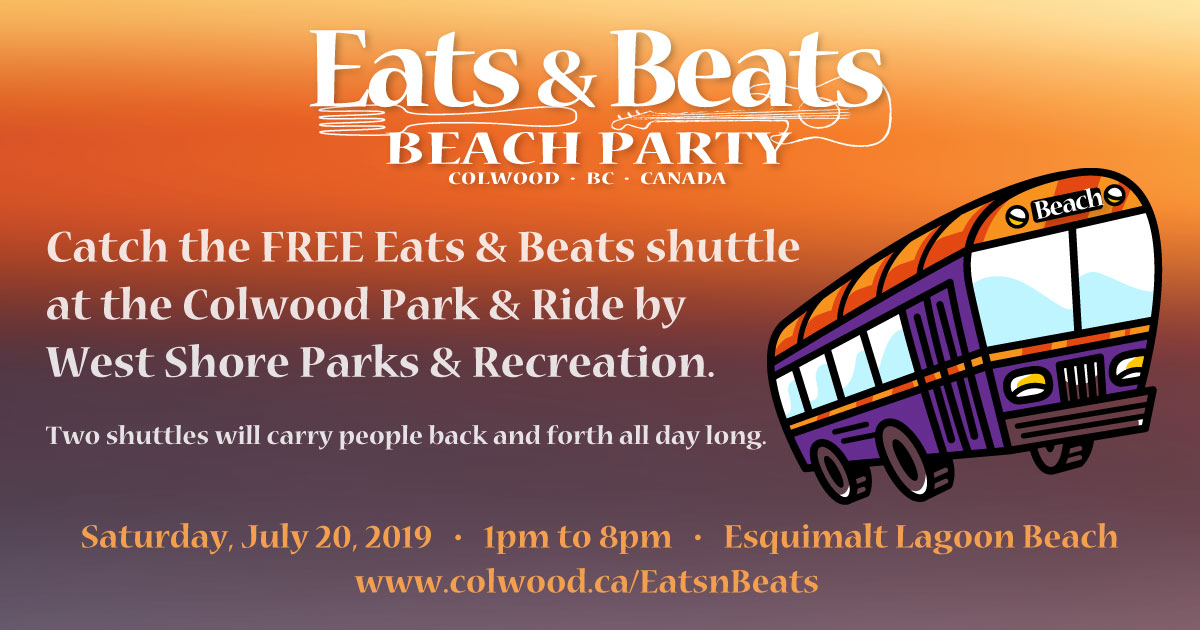 Walking and cycling to this event is encouraged! Bike parking will be available onsite on Ocean Boulevard. Bike racks are also available at the Colwood Transit Exchange at West Shore Parks & Recreation, right next to the Park & Ride where you can jump on a shuttle to the site. 
B.C. Transit makes it easy to get to the event. Simply take transit to the Colwood Transit Exchange (Routes #50, #52, #53, #61) then hop on a complimentary trolley shuttle to the event. For more information visit http://bctransit.com/victoria/schedules-and-maps
Ride the shuttles! We've doubled the shuttles! Two shuttles will travel from the Park & Ride at Island Highway and Ocean Boulevard to the event at the waterfront all day long.
Vehicle parking will be available along the lagoon, but Ocean Boulevard will be closed to through traffic. Vehicles will be able to enter EITHER from Ocean Boulevard at the Highway OR by Lagoon Road off Metchosin Road.
There will be several spaces designated for people with disabilities. A valid parking pass must be displayed.
Get involved as a sponsor
Join our community of sponsors and promote your business at the best beach party of the year! Your support for community events in Colwood helps to create an exceptional quality of life by fostering community pride, attracting business and tourism investment & spurring economic growth. Consider these sponsorship opportunities.