What steps would you take to improve transportation in Colwood?
Work has begun on a Transportation Master Plan to improve how community members and visitors travel in and through our city - whether they are driving, walking, biking or using transit.
On November 20, 2013 at 6pm, join us for coffee and to talk about ways to Refresh Colwood Transportation. We'll hear from Gordon Price, an Urban Planner and engaging speaker who will talk about what other communities around the globe have achieved through innovative transportation strategies. Then you'll have the opportunity to talk with fellow community members to imagine the possibilities for Colwood.
The plan will bring about refreshing changes in Colwood, improving quality of life and sustainability - goals outlined in our Official Community Plan. Colwood's transportation networks will become a platform for building vibrant neighbourhoods, creating enjoyable streets and trails and supporting economic development.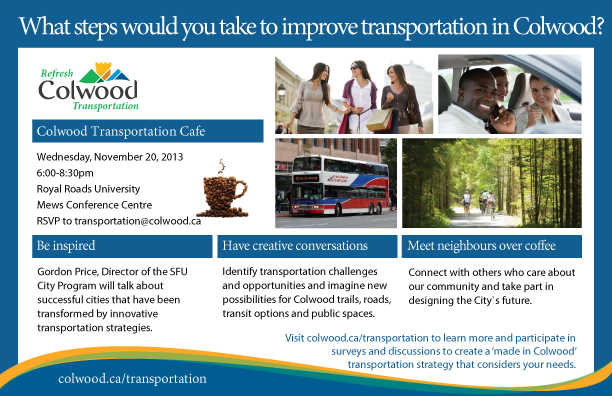 Learn More
Visit colwood.ca/transportation to participate in the creation of a 'made in Colwood' strategy that considers your needs as a community member and meets the overall transportation requirements of our City.