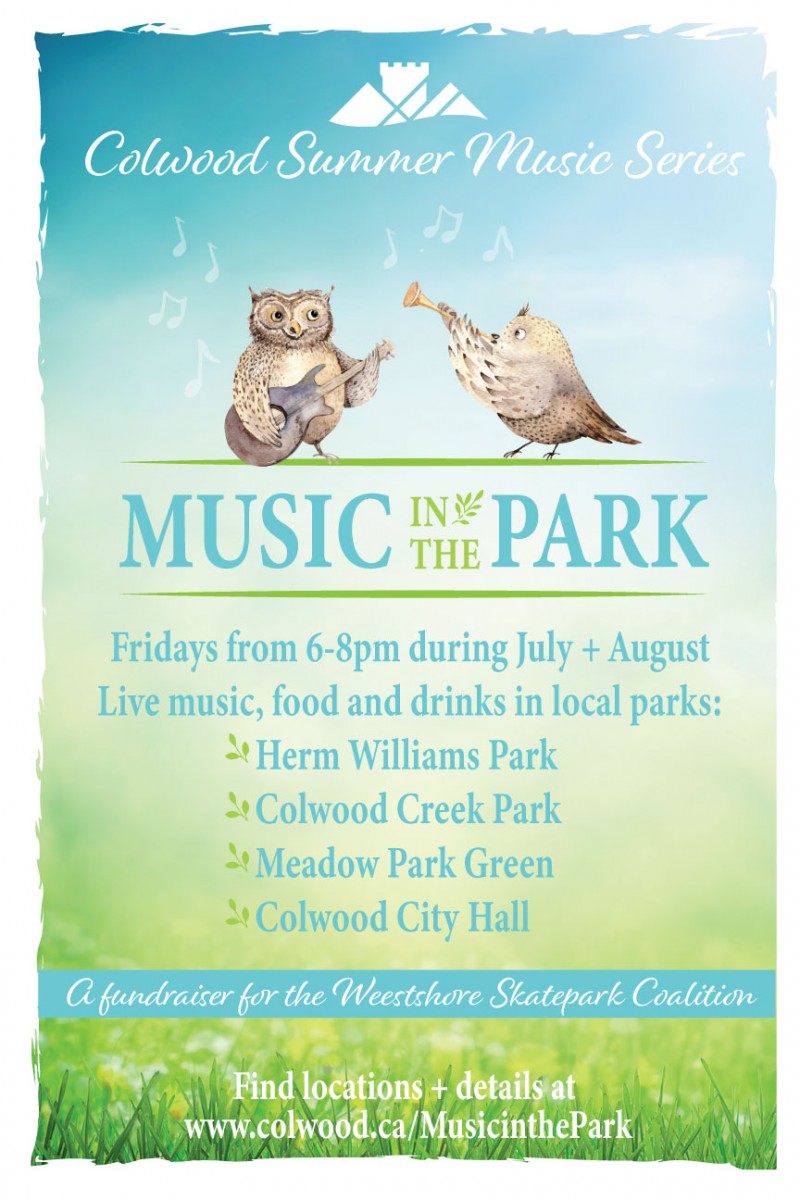 Colwood hosted Music in the Park performances on Friday evenings during the summer of 2022 to bring neighbours together to enjoy live, outdoor music and food while spending time in some of our lovely local parks.
Opportunities to help enhance the West Shore Skatepark in support of youth in Colwood
Events like this provide the opportunity to support local initiatives that benefit people in our community. We'll be working to find interesting ways to use these events to encourage residents to sponsor cool features at the West Shore Skatepark that is planned for West Shore Parks & Recreation.
While a skatepark may sound like it's just a place to play, we know that many of our societal challenges are best addressed by supporting our youth. The West Shore Skatepark will create a space where youth can be themselves, let their guard down, disconnect from unhealthy habits and reconnect to active, social, outdoor activity.
The West Shore Skatepark Coalition and West Shore Parks and Recreation have moved this project forward in amazing ways over the past several years: secured a site at West Shore Parks and Recreation, funded and selected a design with community engagement and municipal support, earned municipal funding commitments, raised significant funds toward skate park construction and took advantage of federal grant opportunities. The City of Colwood has allocated almost $100,000 to construction of the skate park. Watch for opportunities to sponsor added features that will make the park an incredible place for youth in our community.
Thanks for joining us at Colwood Music in the Park events during the summer of 2022
We welcome your feedback and suggestions for improvement as we plan for next year. Please reach out to srussell@colwood.ca any time.
Supporting local artists and businesses
These events offer a stage for talented local musicians and provide opportunities for local food and market vendors. If you are interested in participating, please use the expression of interest forms below.
Musician Expression of Interest
Food Vendor Expression of Interest
Market Vendor Expression of Interest
Interested in sponsorship opportunities?
Sponsoring one of the Saturday musical performances is a fantastic opportunity to showcase your business and brand as a community builder with a focus on fun, social connection, arts & culture, connections to nature and active Island living.
One sponsorship is available for each Saturday event. Sponsorship investment of $250 includes:
Logo and sponsored by on website
Logo and sponsored by on Facebook event page
Logo and sponsored by on website event page
Logo and sponsored by on site sign
Logo in ad (monthly or weekly)
Social media posts
Optional booth at event
Contact srussell@colwood.ca to explore sponsorship opportunities. 
Past Music in the Park events
Date

Location

Musical Performance

 
Friday, May 6, 2022 6 to 8 pm
Herm Williams Park
BackBeat the Band
 
Friday, May 13, 2022 6 to 8 pm
Colwood Creek Park
LateShift 
 
Friday, May 20, 2022 6 to 8 pm
Colwood City Hall
FreezeFrame
 
Friday, May 27, 2022 6 to 8 pm
Meadow Park Green
Christopher Poynter DJ
This event will include a night market!
(Vendor contact)
Friday, June 3, 2022 6 to 8 pm
Colwood Creek Park
Rock of Ages
Kattias Kitchen Mexican Cuisine
Friday, June 10, 2022  6 to 8 pm
Meadow Park Green
Soul Shakers CANCELLED DUE TO COVID: COME FOR THE MARKET!
This event will include a night market and food from Greek on the Street!
(Vendor contact)
Friday, June 17, 2022 6 to 8 pm
Colwood City Hall
BackBeat the Band
Hot Dogs from the "Council Grill" freshly grilled and served up by members of Colwood Council (by donation to the West Shore SkatePark :)

Friday, June 24, 2022 6 to 8 pm

Herm Williams Park
Two Wheeler - Amped
This event will include beverage service by the Cabinet Mobile Bar!

Friday, July 1, 2022 CANADA DAY! 

Downtown Mischief at the Lagoon Beach from 3pm to 5pm
 
 

Friday, July 8, 2022 6 to 8 pm

Colwood City Hall
Kooler
Hot Dogs from the "Council Grill" freshly grilled and served up by members of Colwood Council (by donation to the West Shore SkatePark :)
Friday, July 15, 2022 6 to 8 pm
Meadow Park Green
Soul Shakers

Saltchuck Pie Truck
:( Pie Truck CANCELLED

This event will include a night market!
(Vendor contact)

Friday, July 22, 2022 6 to 8 pm
Herm Williams Park
Best Laid Plans
With the Cabinet Mobile Bar, Spoon & Spade Charcuterie and Big Boi Ice Cream!
Friday, July 29, 2022
NO MUSIC: Setting up for the Eats & Beats Beach Party tomorrow
 
Friday, August 5, 2022 6 to 8 pm
Herm Williams Park
LateShift
With the Cabinet Mobile Bar