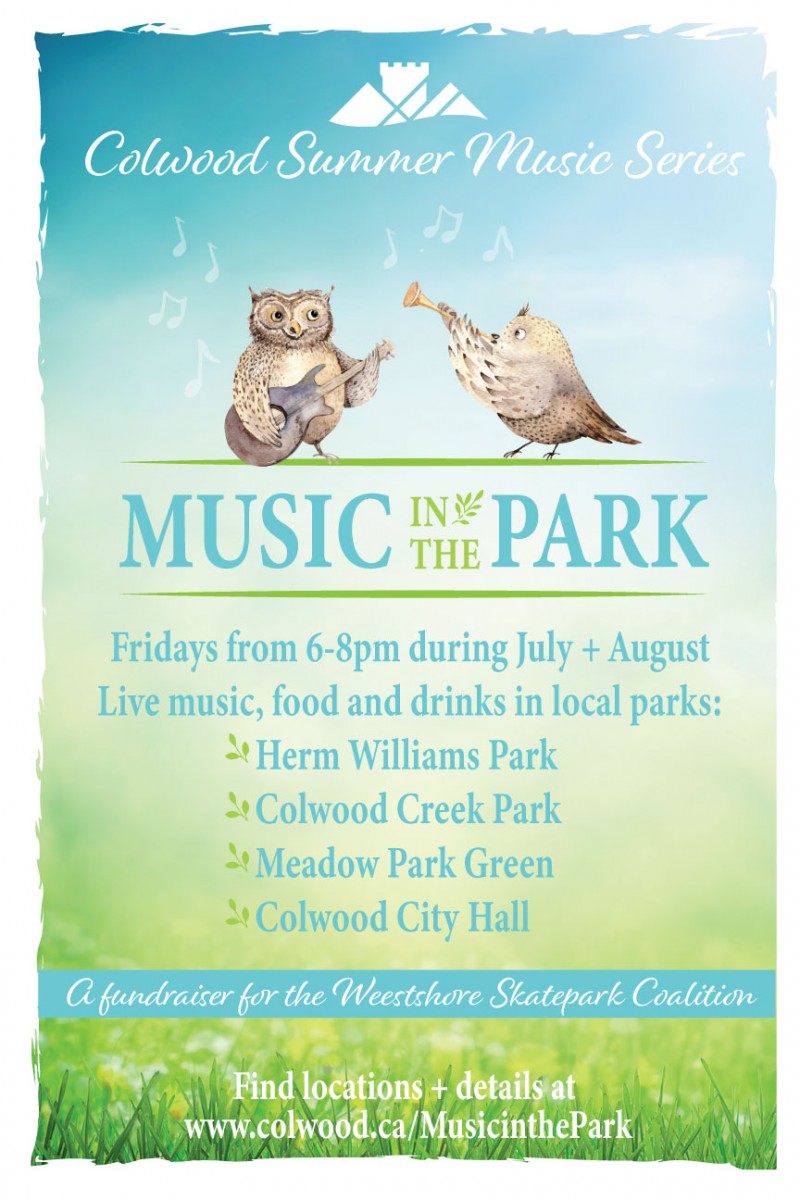 Colwood is hosting a series of Music in the Park performances on Friday evenings this summer to bring community members together to enjoy live, outdoor music and food while spending time in some of our lovely local parks.
Performances will align with the BC Restart Plan to bring people back together safely.
(See also Colwood Beach Food events with live music on Saturdays! www.colwood.ca/BeachFood)
A fundraiser for the Westshore Skatepark Coalition in support of youth in Colwood
Events like this provide the opportunity to support local non-profit initiatives that benefit people in our community. We'll be working to find interesting ways to use these events to raise funds for the Westshore Skatepark Coalition.
While a skatepark may sound like it's just a place to play, we know that many of our societal challenges are best addressed by supporting our youth. The Westshore Skatepark would create a space where youth can be themselves, let their guard down, disconnect from unhealthy habits and reconnect to active, social, outdoor activity.
The Weststhore Skatepark Coalition has made incredible progress over the past several years: secured a site at West Shore Parks and Recreation, funded and selected a design with community engagement and municipal support, earned municipal funding commitments and raised significant funds toward skate park construction. But they have not quite reached their funding goal. The City of Colwood has allocated almost $100,000 to construction of the skate park. This is an opportunity to not only support the initiative through fundraising, but also raise awareness so others can get behind it.
Thanks to our generous sponsors!
Special thanks to BC Ferries for their support of Colwood Music in the Park events with a donation of $2500 to the Westshore Skatepark! Is your business interested in sponsoring these events or donating to the Westshore Skatepark? Contact srussell@colwood.ca.


Colwood Music in the Park Series Schedule
| | | | |
| --- | --- | --- | --- |
| Date | Location | Musical Performance | Food Vendor |
| Friday, July 9, 2021 6 to 8 pm | Herm Williams Park | Daniel Cook & the Radiators | Kattia's Kitchen Authentic Mexican Cuisine |
| Friday, July 16, 2021 6 to 8 pm | Colwood Creek Park | City Slickers | Greek on the Street |
| Friday, July 23, 2021 6 to 8 pm | Herm Williams Park | BackBeat the Band | Kattia's Kitchen Authentic Mexican Cuisine |
| Friday, July 30, 2021 6 to 8 pm | New! Royal Bay Secondary School Field | Freeze Frame | The Funky Food Truck |
| Friday, August 6, 2021 6 to 8 pm | Herm Williams Park | Rotten Apple Ruckus | Greek on the Street |
| Friday, August 13, 2021 6 to 8 pm | Colwood City Hall | Younger than Yesterday | 4 Beaches StrEAT Pizza |
| Friday, August 20, 2021 6 to 8 pm | Herm Williams Park | BackBeat the Band | Greek on the Street |
| Friday, August 27, 2021 6 to 8 pm | Colwood Creek Park | LateShift | 4 Beaches StrEAT Pizza |