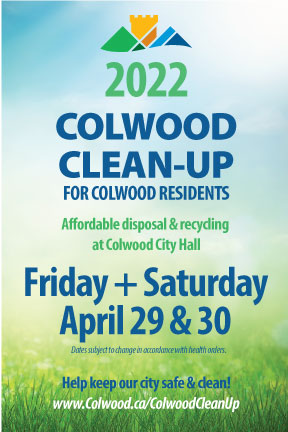 Friday, April 29 & Saturday, April 30, 2022 (8:30 am to 4:00 pm both days)
REMINDER: No Branch Drop Off on Saturday, April 30, 2022 as we accommodate the Colwood Clean Up.
The City of Colwood Public Works Department works hard to keep our city clean, safe and running efficiently. One important way they do this is by offering the annual Colwood Clean Up program.
The program is offered at Colwood City Hall to Colwood residents for two days each spring.
For a small fee, residents can bring everything from appliances and car parts to carpet and wood waste for recycling and disposal. (Residents will be asked for confirmation of residency.)
CASH ONLY (Currently exploring the fesibility of other options)
Items Accepted
Appliances, batteries, automotive parts, barrels, bathtubs, bikes, branches with trunks no greater than 100mm (4") in diameter, bricks, cardboard, carpet, clothing, compost, concrete blocks, electronics, fridges, freezers, furniture, glass, grass clippings, hot water tanks, lumber, rims, rocks, sinks, sports equipment, stoves, de-rimmed tires, toilets, underlay, wire cut into 1 meter lengths, wood waste.
Items Not Accepted
Household garbage, drywall, gypsum board, tree stumps, tires attached to rims, paint, oil, oil tanks, styrofoam or other toxic household hazardous wastes and propane tanks.
What do I do when I get there? 3 easy steps!
Load up your disposables and head to the Colwood Public Works Yard at 3300 Wishart Road.
Drive up to the attendant who will check your Colwood ID and determine the disposal fee you will pay for your load.
Pull ahead to the drop off area as directed to unload. Colwood staff will be there to assist.
Fees - Now accepting cash, debit and credit!
Load Size

Fee per Drop Off Visit

Car Load/Minimum Charge
$20.00
*Small Pickup Truck load
$30.00
*Standard Pickup Truck Load
$40.00
Trailer load (2.5m / 8ft)
$40.00
Appliances
$20.00 each
Fridges/Freezers/Air Conditioners/Water Coolers
$25.00 each
Minimum Charge for Oversized Loads 
$60.00
Vehicles weighing more than 2 tons not permitted
*Note:   A truck load is based on the vehicle being loaded to the top of the standard box height.
Colwood City Hall is located at 3300 Wishart Road in Colwood.
Questions?
Contact Colwood Public Works at 250-474-4133.