Join the community celebration Wednesday, December 6th, 2017 from 6pm to 8pm when City Hall officially lights up for the holidays!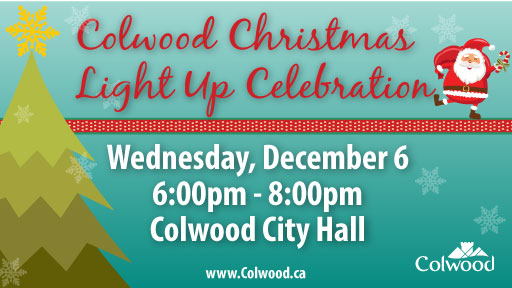 Reconnect with friends and neighbours while you enjoy music by local school choirs.
6:00 pm - Grab a hot dog and a mug of steaming hot chocolate with a delicious fresh baked apple fritter (while supplies last)
6:05 pm - Sangster Elementary School Choir
6:30 pm - Ecole John Stubbs School Choir
6:55 pm - Wishart Elementary School Choir
7:10 pm - Colwood Fire Truck arrives with a very special guest...
Families can take part in craft activities with West Shore Parks & Recreation volunteers throughout the event. Be sure to check out your new Official Community Plan while you are here! 
Come for a hot chocolate provided by Bitez Sandwich Bar, hot dogs provided by Red Barn Market, and tasty apple fritters provided by the Royal Bay Bakery! Free while supplies last. 
There will be fun craft activities for kids, led by volunteers from West Shore Parks and Recreation to keep them busy while they eagerly await Santa's arrival by fire truck.
Don't miss this annual community celebration of the season!
You'll also have a chance to learn a bit about the new draft Colwood Official Community Plan while you are at City Hall. We want to know what you think! 
Support our generous sponsors!