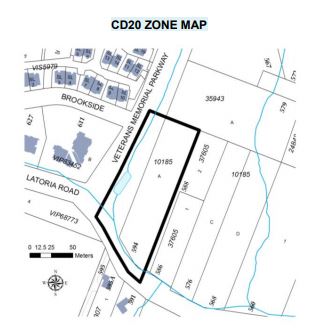 February 5, 2020
Parsi Development Ltd. is the long time owner of the property at 594 Latoria Road across from Olympic View Golf Course near the corner of Veterans Memorial Parkway.
In 2015, the property was rezoned to allow for comprehensive development of up to 187 dwellings plus commercial uses such as a bakery, day care or offices. Buildings may not exceed 11 storeys on this site. Read more about the CD20 zone in the Colwood Land Use Bylaw (p.328).
Parsi Development Ltd. proposes to construct a mixed use commercial and residential development with 187 residential units as well as a gym and amenity area.
Because the property borders Latoria Creek, the City has required that the developer engage biologists to ensure that protection of the riparian area is central to their plans. 
The site is also adjacent to the intersection of Latoria Road and Veterans Memorial Parkway, where work is happening now to design and construct a new roundabout. Staff are working with Parsi Development Ltd and the Olympic View development team to ensure planning is coordinated.
Below are some preliminary concept ideas provided by Parsi Developments. Read more at Parsi Development Ltd.