Ever wondered how often your local park gets mowed? What's involved in trail grooming, tree maintenance, invasive species management, and keeping creeks healthy? How are decisions made about new features like washrooms, water parks, fields, courts or play equipment? 
We've been hosting Parks Walks
We invited the community to join us for a walk in the park with Gord + Gord, Colwood Parks Foreman Gord Beauvillier and Councillor Gordie Logan.
Both Gords are always excited to hear about your experience of our local parks, answer questions, share information and talk about what the future holds for parks and trails in Colwood as outlined in the City's new Parks & Recreation Master Plan.
In 2021, the City is creating Parks Management Plans for three parks: Ocean View Park, Lookout Lake Park and Colwood Creek Park. So we started there!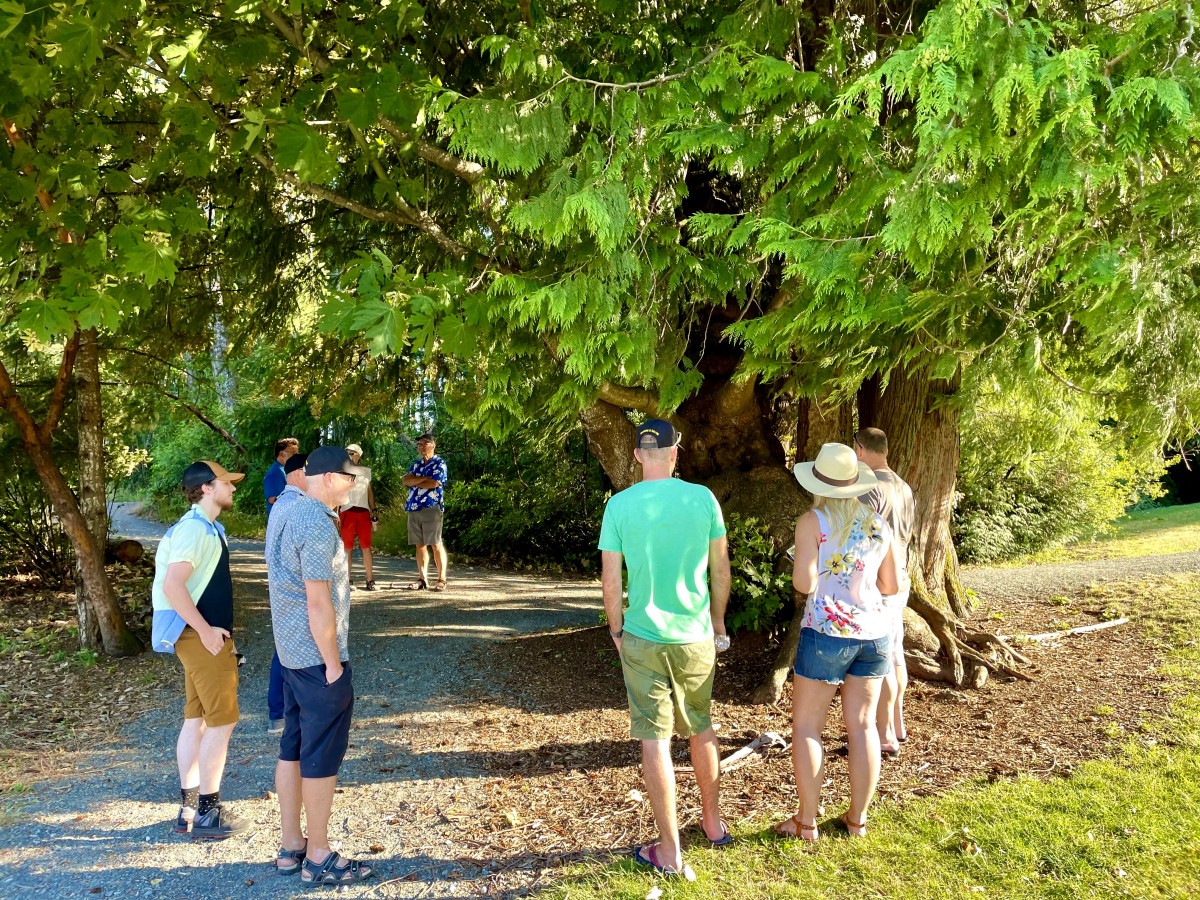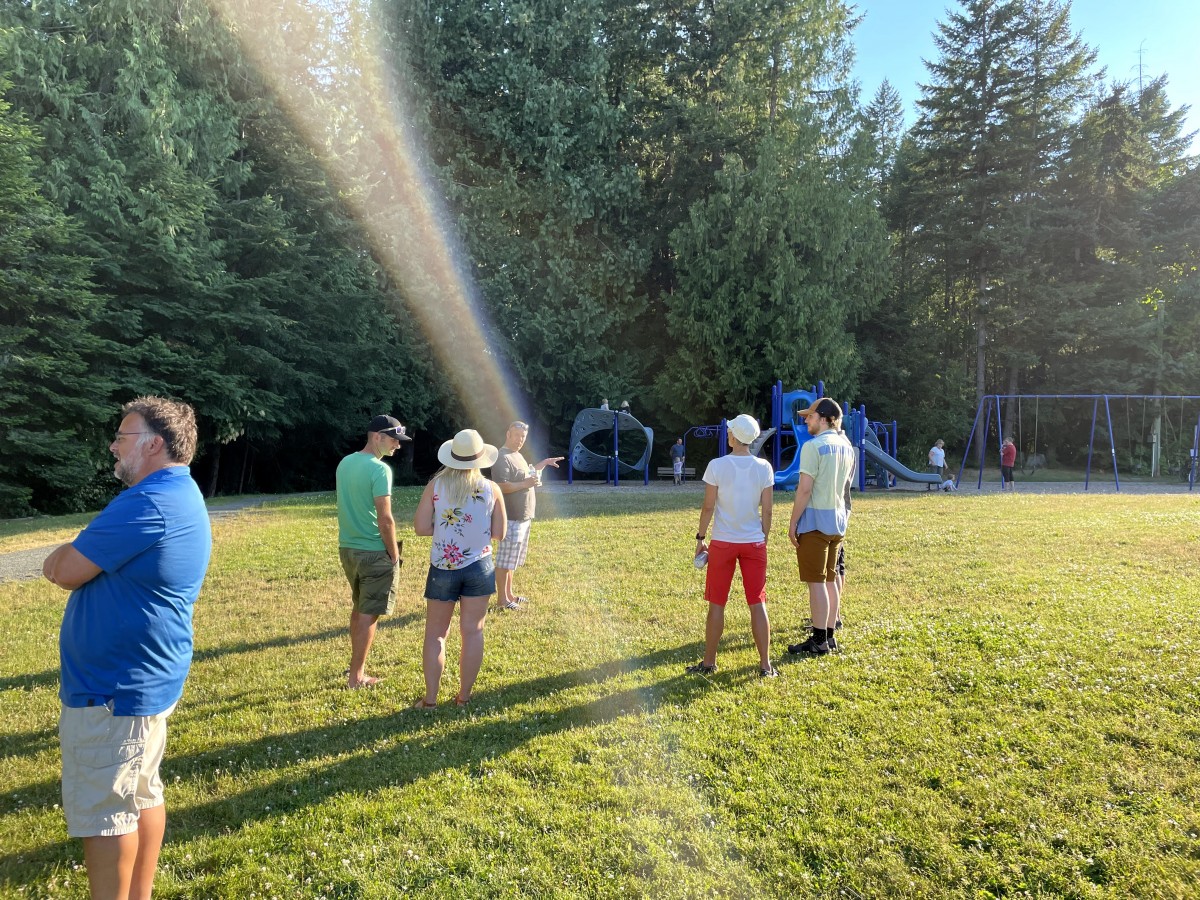 What we heard at Ocean View Park on Tuesday, June 29, 2021
Resident: If we see broom growing, can we remove it?
Parks Foreman: Absolutely! The City is very grateful to have neighbours who are stewards of our parks. Give Public Works a call and we can give you some tips and tricks for safe removal, and then come and pick up the pile when you are done.
Resident: Will Colwood be installing split-rail fencing along the park border on Hope Road? It's scary to think a vehicle could drive into the park.
Parks Foreman: Split-rail fencing is scheduled to be installed this summer. The City will re-purpose fencing that is no longer needed along the Painter Trail in Royal Bay.
Resident: We would love to have more benches and picnic tables in the park.
Parks Foreman: This is a location where we encourage people to consider memorial benches for loved ones, so they may be added that way. The City is also creating a new public furniture standard which will roll out into parks and public spaces over the coming year. Thanks to your comments we've noted Ocean View Park as a location to include. 
Resident: There used to be trees along Hope Road. Could new trees be planted to frame the park?
Parks Foreman: We can add this location to our tree planting list.
Resident: Why was the pea gravel in the playground replaced with wood chips?
Parks Foreman: That was a new safety standard introduced several years ago. The engineered wood chips offer greater fall protection than pea gravel and are more accessible for those with mobility challenges. The pea gravel also attracted plant matter that created an unpleasant slimy surface over time.
Resident: How is the playground maintained over time?
Parks Foreman: Playgrounds in Colwood are inspected weekly by certified playground inspectors. We are lucky to have a parks foreman who is a certified playground inspector. Each part of the structure and equipment is inspected for wear and tear, burrs or slivers, as well as bees nests or other insects. Gord noted that replacement equipment supply times vary, so often it can take weeks to receive a replacement swing, for example.
Urban Forest and Trail Maintenance in Ocean View Park
The parks team maintains the urban forest and trail areas within the park in several ways, some of which include:
Removing invasive species such as Scotch Broom, Holly, Ivy and Daphne. These crowd out native species, and many can cause skin reactions. Daphne, for example, is photo toxic. This means it is not until skin is exposed to the sun that the oils from the leaves may cause a rash or blisters on the skin.
Assessing tree health by looking for things like fruiting bodies such as fungus, which may be an indicator of disease.
When an unhealthy tree does need to be removed, often a portion of the tree is left as a habitat tree for animals, birds and insects, or as a nurse log on the ground to nurture plants and enrich the soil over time.
Remove smaller branches and debris that would act as fuel in the event of a fire and encourage growth of favourable species such as ocean spray, salal and oregon grape.
Relocate larger fallen logs to use as trail borders.
Types of trees in Ocean View Park
The trees in Ocean View Park are primarily Douglas Fir, Cedar, Balsam, Arbutus and Alder. There is also a small Garry Oak meadow along the trail between the playground and Maryanne Crescent. Wherever possible, the parks team encourages this type of meadow where camas also often grow by limiting disturbances. These areas won't be mowed and will sometimes be fenced off for protection.
Gord also pointed out a very unique tree where the trail meets the park area. Three tree species are entwined, appearing to be a single tree made up of a Big Leaf Maple, a Western Red Cedar and a Douglas Fir. 
Ideas from the community for Ocean View Park in the Parks & Recreation Master Plan 
With significant input from the public, the City of Colwood adopted its first Parks & Recreation Master plan in 2021.
Some of the ideas expressed for Ocean View Park include:
Protect environmentally sensitive areas and explore potential for outdoor learning and nature play spaces.
Consider a covered shelter on the grassy area for picnics and other uses.
Consider tables both under cover and in the park and seating with in play areas.
Add a washroom facility that considers accessibillity, energy efficiency and good visibility.
Review the basketball court conditions, confirm uses (multi-court, basketball, pickleball, tennis, etc) and consider fencing.
Determine options for improving parking including bike parking.
Read the full Colwood Parks & Recreation Master Plan with a section specific to Ocean View Park on pages 115-117.