You would be hard pressed to find a West Shore resident who has not taken advantage of West Shore Parks & Recreation programs and facilities. From little ones who became fast friends attending things like toddler socials, pre-school programs, swimming and skating lessons – to the moms who got to know each other as they cheered on their kids together – West Shore Parks & Recreation programs continually help to weave our community together.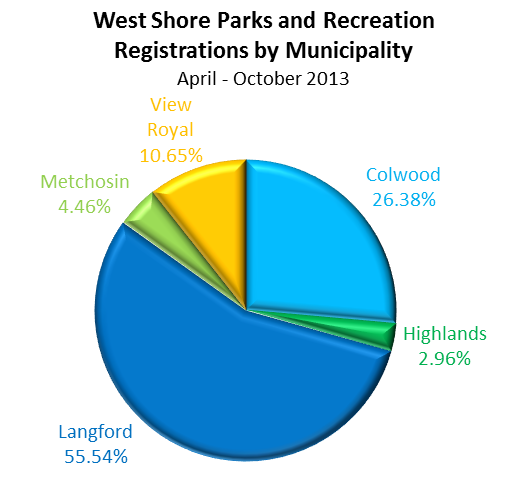 It's a resource that is used by members of every municipality on the Westshore, with the majority (56%) of registrations coming from Langford, 26% from Colwood, 11% from View Royal and the remainder coming from Metchosin, the Highlands and throughout the Capital Region.
Something for everyone
West Shore Parks & Recreation offers an outstanding variety of recreation and leisure opportunities, including a swimming pool, exercise facilities, ice rinks, a golf course, playing fields, playgrounds, outdoor tennis and volleyball, lawn bowling, lacrosse, a bmx track and more.
But the offerings go well beyond sports. Westshore residents have often commented that they look forward to receiving the West Shore Parks & Recreation Activity Guide every few months and leafing through to see all the recreational options available (and all the photos of familiar faces!) With programs focused on art and music, youth empowerment and leadership, health and wellness, nutrition, finance, computers and many other special interests, there is truly something for everyone.
The gravel trail that runs around the forested perimeter of the lovely grounds and overlooks the playing fields and golf course is a favourite for walkers and joggers. The trail has recently been upgraded using crushed rock to make it more accessible for strollers and wheel chairs. In fact, West Shore Parks & Recreation took a lead role in the development of the award-winning Guide to User Friendly Trails, which involved upgrades to many local trails throughout the Westshore.
It's happening here
The facilities are also home to many sporting events, conferences, trade shows, events and festivals, including the two-day Rock the Shores music festival that 12,500 fans flock to each year. Bear Mountain Arena (now called the Q! Centre!)  is the Island's premiere mid-sized arena and home to exciting sports action with the Victoria Grizzlies Hockey team and the Victoria Shamrocks Lacrosse team (as well as many other local teams and tournaments!)
In 2014, people will come from around the region to attend a wide variety of events, such as the popular Victoria Home and Garden Show. Students from grades 6 – 12 will love Bike Jam where they can try 7 different cycling styles from bmx to mountain biking and cycling in the velodrome. 2014 will also see the return of Run or Dye, the world's most colourful 5K, where runners are showered in safe, eco-friendly, techincolour powdered dye!
With the Juan de Fuca Seniors Centre, The Q Centre Arena, WildPlay Element Park and the Juan de Fuca Library on the same site, West Shore Parks and Recreation offers a myriad of services and benefits. It is truly part of the fabric of our Westshore community, helping residents stay connected and healthy.
Find out more and register for programs happening now at www.westshorerecreation.ca.