One hundred and twenty homes in Colwood accessed Solar Colwood incentives and are benefitting from the increased savings and comfort ductless heat pumps provide. 
What is a Heat Pump?
Heat pumps can be a primary heating and cooling system for your home or business. They take the heat from in the air that is available even on colder days and move it into your home or business. In the summer they can do the reverse, removing the heat from your home to provide air conditioning.
Save 25-50% on Your Home Heating Bills
Heat pumps are considered extremely efficient because they use only a small amount of electricity to move a large amount of heat. Upgrading from electric baseboards to ductless heat pumps is a great way to save on your energy bills. Visit the Energy Champions page to hear from Colwood residents about their heat pump upgrades, and then calculate how much you could save.
Save $800 on a Ductless Split Heat Pump
Homes heated with electricity may qualify for an $800 rebate from the BC Hydro and FortisBC HERO program. Visit www.bchydro.com/homerebatesor www.fortisbc.com/homerebates or ask your heat pump installer for more information. Low-interest no money down financing is also available for residential heat pump upgrades. 
Improve Home Comfort
Ductless split heat pumps use a fan to distribute heat evenly across a large area, providing comfortable, even heat throughout your home or business.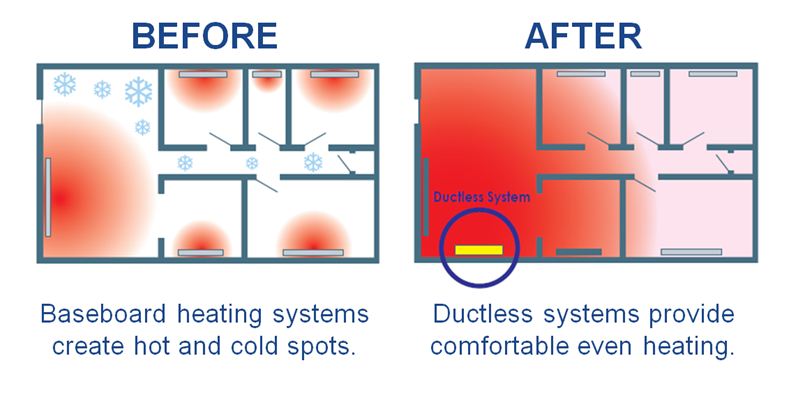 Components of a Ductless Split Heat Pump
Ductless Split Heat Pumps consist of three components:
an indoor unit that sits high on the wall of a central space,
an outdoor unit that sits on the ground or mounts on the side of the building,
a remote control unit.
How Do Ductless Heat Pumps Work?
The outdoor unit collects heat from the outside air and transfers it to the indoor unit(s). It works even on cold winter days!
The indoor unit distributes the heat throughout your home or business.
In the summer, the system can work in reverse to transfer heat out of your building, cooling your living or work space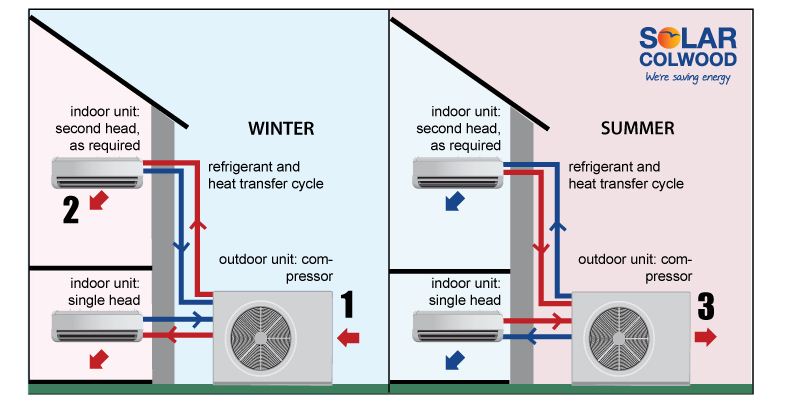 Types of Heat Pumps
Heat pumps can be central (ducted) or ductless. Central or ducted heat pumps are typically added to an existing ducted heating system such as a gas, oil or electric furnace. Ductless Split Heat Pumps do not require ducting and are a common upgrade from baseboard electric heating.
How Do I Get A Ductless Split Heat Pump?
You can work with the contractor of your choice. Be sure to ask your installer if they are installing a system that can qualify for incentives through the HERO program. Solar Colwood has a list of heat pump installers operating locally for your convenience, and tips about choosing a contractor.
Heat Pump Learning Resources