The City of Colwood is excited to be creating a Waterfront Improvement Plan, which will provide the community with a master plan for this vital area and guide Council decision-making for the next 10 years.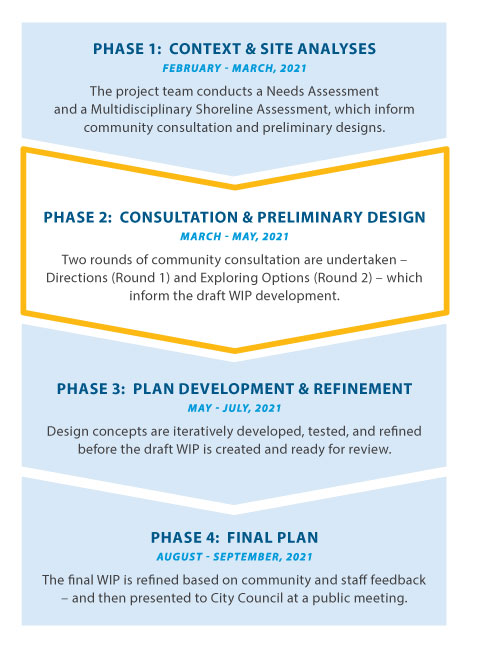 The plan will outline how a multi-use pathway could connect the Lagoon Beach from the Lagoon Bridge to Royal Beach and inform future detailed design and construction of new waterfront landscaping, features and amenities, such as seating, signage, lighting and washrooms.
Planning will be informed by existing policies including the Official Community Plan and Parks and Recreation Master Plan as well as public and stakeholder input. The final plan will identify options for specific public realm improvements within the study area to enhance the character and recreational utility of the waterfront while protecting the highly sensitive wildlife habitat and archeological resources.
The local landscape architect team at Murdoch de Greeff Landscape Architects will bring their experience to the project. The plan is expected to be complete within 2021, with improvements to be considered for implementation in the 2022 budget.
Dive deeper: Learn more and complete the survey
Click on each image below to open information boards with details about the project, the shoreline, key considerations, community concerns, key directions and creating an exceptional waterfront. View the full pdf.
Get involved and share ideas
Take the Waterfront Improvement Plan Directions Survey now!